The Maltby Redwood Curriculum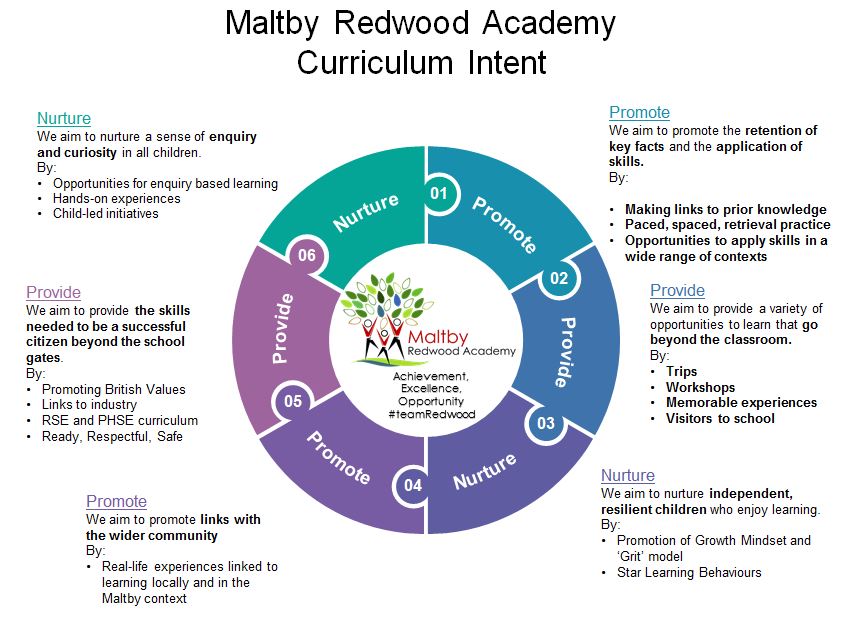 Redwood Academy is a school which will always:

Make learning the priority
Strive to continually self-evaluate and improve
Encourage and value extended learning opportunities including sport and the creative and performing arts.
Develop a learning partnership between children, parents, school and the local community.
Challenge children to achieve their full potential and be prepared for the next stage of their education
Redwood Curriculum Guarantees
Redwood Children Enjoy Learning
At Maltby Redwood Academy we will ensure that children enjoy learning by:
Providing a welcoming, safe, happy learning environment where everyone is respected and valued.
Building self-esteem and confidence to ensure children develop as independent, resilient and motivated learners.
Providing a broad enquiry-led curriculum which inspires our children to become confident, successful learners and considered thinkers.
Challenging learners to achieve their full potential and leave prepared for the next stage of their education
Accessing broader learning opportunities through working in partnership with other schools in the Maltby Learning Community.
To achieve this we have developed a fantastic staff team; committed to supporting, guiding and enabling your child to develop the skills they need to flourish.
Redwood Children Are Successful
At Maltby Redwood Academy we ensure that children secure success by:
Striving for the highest possible standards of achievement
Modelling mutual respect and excellent behaviour
Providing an excellent, well-resourced learning environment
A commitment to staff learning and development and the sharing of quality practice
We celebrate achievements, whether they are academic , sporting, performing arts or creative. Children are encouraged to share their extra-curricular achievements in our weekly 'Special Mentions' assembly.
Redwood Children Are Prepared
At Maltby Redwood Academy we ensure children are prepared for life beyond school by:
Developing them as responsible citizens who celebrate diversity, know that actions have consequences and care about the future of the world they live in.
Encouraging them to become confident individuals who believe in themselves and trust those around them.
Fostering ambition and acceptance of nothing less than their very best.
Developing them as self-reliant, independent learners.
Offering a wide range of real-life opportunities to engage and stimulate growth